Forside -> Arrangementer -> Arkiv -> Robo Champs
Robo Champs @ ITU
Arrangementet er afholdt
(blev afholdt fredag, 26. november 2010, kl. 15:00-17:00)
As the World Cup raged in South Africa this summer, two young Spanish players were securing the gold at the RoboCup Championships in Singapore.
Now, Complubot is visiting the IT University to demo their robotic champions before they proceed to the I LOVE ROBOTS festival in Malmö.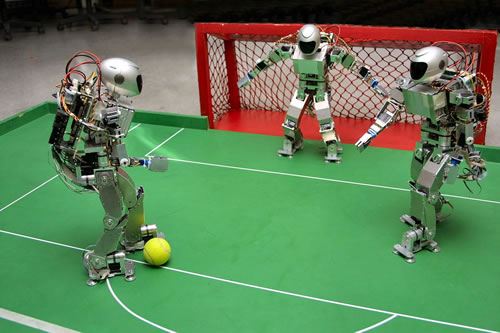 Joins us for an exiting afternoon with dribbling robot athletes and impressive human designers in ITU's DesignLab.
November 26th 2010, 4PM
DesignLab,
The IT University
Rued Langgaardsvej 7
2300 Copenhagen S